2008 NEWS AND EVENTS
On September 15, 2008, Sergei Tcherepnin's "Regenerations" for Violin, Viola, Cello and Clarinet was performed by Da Capo Chamber Players at NYC's Merkin Concert Hall. On November 15, 2008, his new work, "Rainbow Spirals," for Trumpet, Viola and Electronics was premiered at Diapason Gallery for Sound.
On October 30, 2008 Stefan Tcherepnin performed at Brandeis' Rose Art museum in collaboration with Amy Granat as part of museum's current exhibition, 'Drawing on Film.' (more information at http://www.brandeis.edu/rose/exhibitions/drawingfilm.html). Stefan also recently performed at Lisa Cooley Fine Art in NYC (see http://www.lisa-cooley.com/events/), and has been awarded a 2008 New York Foundation for the Arts Fellowship in Music Composition.
Lu Wei, Zhao Jing, Lan Shui
prepare Ivan's Double Concerto
The Singapore Symphony rehearses the concerto at Esplanade Concert Hall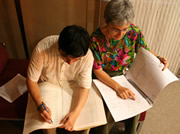 Lan Shui and Sue-Ellen Hershman-Tcherepnin review Ivan's hand-written corrections
L-R: Lu Wei, Zhao Jing,
Sue-Ellen Hershman-Tcherepnin, Lan Shui, Ming Shui, Chang Tou Liang
On August 30, 2008, Lan Shui led the Singapore Symphony in a performance of Ivan Tcherepnin's Double Concerto, with violinist Lu Wei and cellist Zhao Jing. Sue-Ellen Hershman-Tcherepnin was invited to speak to the audience about the work before the performance, and also participated in the post-concert Symphony Chat, hosted by Chang Tou Liang.
On May 22, 2008, Olga Konosenko and Nerijus Juska danced a historic Pas de Deux from Nikolai Tcherepnin's Le Pavillon d'Armide in Boston at the Cutler Majestic Theatre, staged by Andris Liepa and reconstructed by Jurijus Smoriginas after Mikhail Fokine's original choreography. This "Russian Revel" evening was presented by Ballets Russes 2009, in anticipation of its weeklong Ballets Russes Centennial Celebration May 16-23 of next year.
On May 12, 2008 pianist/mathematician Elaine Chew performed Ivan's Fêtes as part of a colloquium at MIT. Entitled The Mathematics in Music, the presentation was part of her and Alexandre Francois's activities of their research cluster on Analytical Listening Through Interactive Visualization at the Radcliffe Institute for Advanced Study.
On March 22, 2008, Stefan and Sergei Tcherepnin demonstrated and discussed the Serge modular synthesizer as part of "Analogos 10," an informal evening of performance and discussion at the Diapason Gallery for Sound and Intermedia in Brooklyn, NY.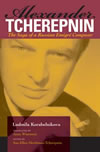 A NEW BIOGRAPHY OF ALEXANDER TCHEREPNIN
The Tcherepnin Society is pleased to announce that the first full-length English-language biography of Alexander Tcherepnin to reach print—Alexander Tcherepnin: The Saga of a Russian Emigré Composer by the distinguished Russian musicologist Ludmila Korabelnikova—was published by Indiana University Press on October 23, 2007 and is now available through the IUP website (price $39.95).
Click here to purchase this book from Indiana University Press.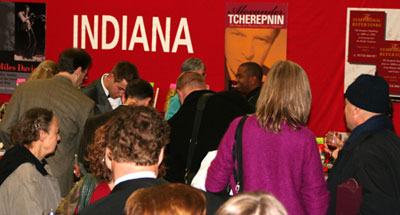 American Musicological Society Conventioners gather at the
Indiana U. Press Exhibit
Originally written in Russian and subsidized by a grant from The Tcherepnin Society, Dr. Korabelnikova's book was published in Moscow in 1999, the first Russian-language biography of Tcherepnin ever to appear. The present English translation was commissioned by The Tcherepnin Society from Anna Winestein and edited by Sue-Ellen Hershman-Tcherepnin, Secretary of the Tcherepnin Society. With Hershman-Tcherepnin's aid, and drawing on the Tcherepnin expertise of our Board Members Phillip Ramey, Benjamin Folkman and Serge Tcherepnin, Korabelnikova corrected a few inaccuracies in original source materials, and introduced important clarifications to aid English language readers unfamiliar with Russian culture.
L-R: Musicologist Susan Weiss (Peabody Conservatory), Indiana U. Press Music & Humanities Editor Jane Behnken, Sue-Ellen Hershman-Tcherepnin
In her account of Tcherepnin's life, Dr. Korabelnikova utilized materials previously unexamined by scholars, including Tcherepnin's Russian-language journals, letters, and articles. Of particular value are the music reviews that Tcherepnin published as a young composer in Tiflis in 1919–21, and extensive sequences of letters to his father detailing the artistic and technical issues he confronted in composing three of his most ambitious works: Symphony No. 1, Op. 42, Piano Quintet, Op. 44 and the opera The Wedding of Sobeide, Op. 45. Korabelnikova also drew on articles written by Tcherepnin in French and English concerning the practical and aesthetic challenges faced by modern composers. An appendix contains the full text of Tcherepnin's Basic Elements of my Musical Language, an explanation of his composing methods, excerpts of which are presented on our Tcherepnin Society website.
Sue-Ellen speaks with a conventioner
about the new biography
As the volume's subtitle indicates, Ms. Korabelnikova has produced something more than a biography. The author felt compelled to place Tcherepnin within the rich 20th century trove of Russian émigré culture: an area that, for political reasons, was severely neglected by Russian musicologists during the Soviet era. Nikolai and Alexander Tcherepnin figured prominently among the many refugee composers, artists and writers who strove to preserve Russian national traditions in their own work while popularizing Russian arts abroad. Ms. Korabelnikova's picture of their activities adds a new dimension to the general understanding of the work of both Tcherepnin composers. Equally illuminating is her account of musical and artistic life in Tiflis, the first stage of Alexander Tcherepnin's lifelong odyssey. Here she traces the influence of Slavic ethnic musics upon the distinctive scales that Tcherepnin developed.
The 288-page biography is copiously provided with musical examples, and contains several black and white photographs. For anyone interested in the life and work of Alexander Tcherepnin, it is indispensable reading.
Click here to return to NEWS AND EVENTS.